Preserve Lamorinda Open Space
Bollinger Valley
The Bollinger Valley project site is composed of high-quality wildlife habitat including grassland, oak woodland, chaparral, and streams that feed Las Trampas Creek.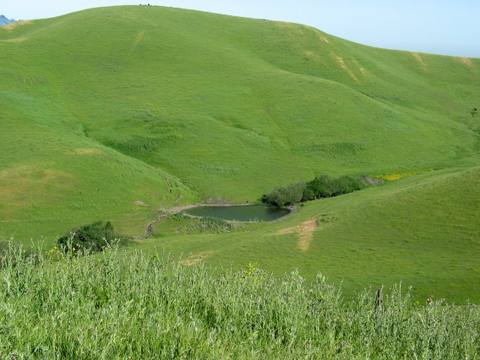 Bollinger Pond
The development plan, denied by the Moraga Town Council in November of 2018, would have required massive remedial grading to facilitate development on unstable hillsides. A large subdivision in this valley would have major impacts to public views from East Bay Regional Park trails in and around the Las Trampas Regional Wilderness area.
The only access to the valley is from St. Mary's Rd. to Bollinger Canyon Rd. to Valley Hill Drive. Valley Hill Drive is currently a one-lane country road and would require widening, re-engineering, massive retaining walls, and significant tree cutting to accommodate the traffic from a major subdivision. Fortunately the Moraga Town Council said no the this idea.